PolyWare compares patient x-ray images to measure the volume of polyethylene material that is worn away from the bearing surfaces of orthopedic hip implants, over time.
The amount of wear is determined by precise 3D measurements from standard patient radiographs. This data is extremely useful for determining the longevity of bearing materials, the quality of implant design, and even when future revision surgery may be required.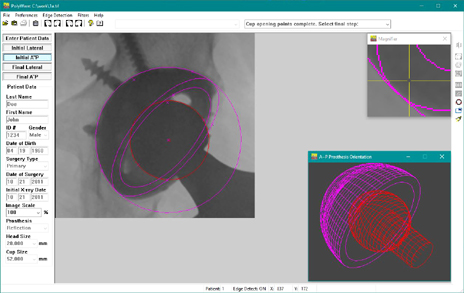 Why PolyWare is the Best

Competitive products require the user to visually select the implant's head and cup profiles in the x-ray image. This leads to potential inaccuracies, and makes consistent reproducibility impossible. PolyWare uses advanced imaging technology to determine the head and cup profiles in the x-ray image. The result is improved accuracy and consistency. Going one step further, PolyWare can determine true 3D wear, where competitive products cannot.
The Worldwide Standard

PolyWare has long been the worldwide standard for THA wear measuring, with over 500 customers in 30 Countries, including clinics, medical schools, hospitals, and implant manufacturers.
Dozens of published THA wear studies appearing in JBJS and other journals, have used PolyWare data, including: Dr. Harris/Boston General, Dr. Maiken Stilling/Univ Aarhus, London Health Sciences Centre, Zimmer/Korea, Sulzer/Zimmer/Switzerland and countless others, too numerous to list.

Compare with other THA wear software:
| | | | | | | | |
| --- | --- | --- | --- | --- | --- | --- | --- |
| Product | 2D Wear Results | True 3D Wear Results | Wear Rate Per Year | Head/Cup Edge Detection | Most Accurate | Lowest Price | Tech Support |
| PolyWare® | ✓ | ✓ | ✓ | ✓ | ✓ | ✓ | ✓ |
| MartellTM | ✓ | | | | | | |
| EBRA-CUPTM | ✓ | | | | | | |
| ROMANTM** | ✓ | | | | | | |
| All Others | ✓ | | | | | | |
** ROMAN is limited to 2D measuring only, has not been updated since 2005, and no tech support is provided.
How Does PolyWare Compare Against Martell ?
Studies conducted by the team of Dr. Harris at Massachusetts General Hospital revealed PolyWare has 50% better reproducibility of results compared to Martell !

Read The Study!

New Features in PolyWare Rev 8
The latest release of PolyWare has several new offerings:

New Dynamic Edge Detection of Head & Cup.
Korean language version.
Japanese language version.
Supports Windows 10.

Input Capabilities:

DICOM radiograph image files.
DICOM images from PACS systems.
TIFF radiograph image files (various formats).
TIFF images from PACS systems.

Output Capabilities:

Saves results directly in Excel® .XLS file format.
Saves results in .CSV (comma separated) format.
Results also saved in standard text file format.

Total Hip Systems Supported:


Aesculap Plasmacup DC®
Biomet Mallory®
Biomet Mallory® (Asian)
Biomet Universal RingLoc Series®
Biomet Bi-Metric®
Biomet Asian®
Centerpulse Converge
Corentec Bencox
DePuy Duraloc®
DePuy Solutions®
DePuy PSR®
DePuy Pinnacle®
Encore®
Howmedica PCA®
Kyocera (JMM) K-MAX®
Kyocera (JMM) AMS®
Kyocera (JMM) SQRUM®

LINK Bio LINK/Top®
Nakashima Medical TNH®
Ortotech Amplitude/Saturne®
Smith & Nephew (Richards) Inter-Fit®
Smith & Nephew (Richards) Optifix®
Smith & Nephew (Richards) Reflection®
Smith & Nephew R3® Acetabular System
Stryker Trident®
Stryker TriAD®
Zimmer (Sulzer) ACA®
Zimmer (Sulzer) Allofit®
Zimmer (Sulzer) AlloPro®
Zimmer (Sulzer) Fitmore®
Zimmer (Sulzer) Weber Cup®
Zimmer (Sulzer) Inter-Op®
Zimmer Harris Galante I®
Zimmer Trilogy®
Need a Brand Not Listed Above?

We routinely add support for new implant brands, based on demand. The cost for adding new brands to PolyWare is not passed on to the customer, but it can take a few weeks to complete. If you need support for a specific brand, ask us!. We will add support for new brands whenever feasible.
Why Does PolyWare Support Specific Brands?

PolyWare continues to be the leading THA wear software through its accuracy and customer support. Accuracy depends on several factors. A very important factor is knowing what implant brands appear in your patient's radiographs, and what the exact head and cup sizes are. There are additional design parameters that can affect accuracy of wear measurement. These design parameters differ between manufacturers. When we add support for new brands, we work with the manufacturer to determine what design features might impact the calculation of wear results. By accounting for the specific differences between brands, PolyWare is able to maintain its lead as the most accurate THA wear tool available.

Product History

In 1992 Dr. Peter Devane, of Wellington, New Zealand, developed a new three-dimensional technique for the measurement of polyethylene wear in metal-backed acetabular components. Using a back-lit digitizing tablet, points from AP and Lateral radiographs were captured by AutoCADŽ software. Custom programming converted the point data into 3D solid models of the prosthesis. The migration of the head/cup center points were then used to calculate volume displacement.
In 1995, Dr. Devane and Dr. Robert Bourne approached DePuy regarding development of a user friendly package that would incorporate Dr. Devane's program into a Microsoft Windows environment. Due to its proximity to the heart of the orthopedic industry (Warsaw, Indiana) and its ties with the industry, Draftware Inc was hired to develop Dr. Devane's software. Within one year, nine centers in the U.S. were using the new software to measure polyethylene wear in 950 cases.
In early 1997, Dr. Devane and Dr. G. Horne improved the accuracy of the software to +/- 0.028 MM by minimizing user input and analyzing digital images of clinical radiographs. In October 1997, Draftware Inc announced the official release of the PolyWare Pro 3D product for Microsoft Windows.
In 2005 the accuracy of PolyWare was again improved with new software imaging technology. The new software algorithms removed user input error by automatically finding the edges of the orthopedic implant in the image data. The improved software was released as PolyWare Auto in 2005. PolyWare Rev 7 debuted in 2014 with a vastly improved user interface and support for DICOM files. PolyWare Rev 8 was released in 2017 with several new features, including dynamic circle dragging and support for Windows 10.

Pricing Information
Microsoft Windows® Version (network or stand-alone)

Price Per License (each)

Order #

Description

1

2-3

PWMS-8079

PolyWare Rev 8

$ 995

$ 695

Customer Upgrades

Upgrade past versions of PolyWare to PolyWare Rev 8. (Contact us for details on latest versions).

$ 495 per license

Additional Charges

Internet Download

No shipping fee ($4 handling fee)